Dental Implant Restoration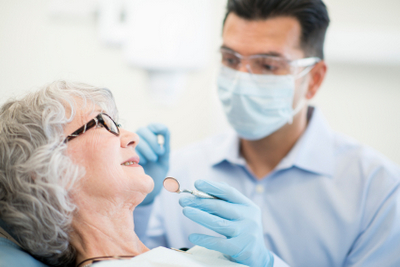 Dental implant restorations are a fantastic solution for replacing missing teeth. They are durable, permanent, and aesthetically pleasing. They so closely mimic natural teeth, you and your friends won't be able to tell the difference. If you are looking to repair your smile fully, implant restoration is by far the best option available to you. The following information is a brief summarization of what you might expect from the process.


Before Beginning Treatment

Before a patient begins the implant restoration process, we will need to determine if dental implants are the best option. An x-ray will be taken to ensure that the candidate has healthy and sufficient jawbone mass available for implantation. When an individual loses their teeth, the jawbone resorbs. If the patient does not have sufficient bone tissue available, then we will have to perform a bone grafting procedure, utilizing either synthetic material or bone taken from another part of the patient's body. A healing period of five to nine months is needed before we can proceed to the implant restoration surgery.


Defining Implant Restoration

The process of implant restoration is not as simple as one might assume. The implant is a small metal or ceramic screw-like post that is permanently and surgically anchored to the jaw. During a period of healing, the jaw bone grows around and securely fastens itself to the implant. The scientific term for this process is called osseointegration, which roughly translates to bone connection, and can take anywhere from two to six months.

After the jaw and gums have properly healed, Ian McNickle, DDS will attach a metal abutment to the implant. Sometimes the abutment can be placed during the implant surgery, but if not then we will have to reopen the gums to affix the abutment to the implant properly. In this case, it will take one to two weeks for the gums to heal.

Next, we will make an imprint of the arches by using soft dental putty. The impression is then sent to a lab where customized artificial teeth are made. During this time, the patient will wear transitional restorations. These are soon replaced by the newly fashioned, false teeth, which are permanently attached to the abutments.

The period the entire process might take can vary greatly, and is determined by several variables such as the number of implants you require, whether or not bone grafting is necessary, and how quickly your tissue repairs itself. Since the function of an implant restoration so closely resembles that of a natural tooth it can last upwards of thirty years, stimulate bone growth, and prevent facial collapse.


Caring For Your Implant Restorations

The necessary care for most implant restorations is quite minimal. Simply follow the same hygienic routine of brushing, flossing, and rinsing as you would with natural teeth. Just be aware that it is possible to scratch a restoration, so be gentle but thorough.


Have More Questions?

If you suffer from tooth loss and are looking for a permanent solution to rebuild your smile, please call us at (555) 555-5555 to discuss your options!