Benefits Of Dental Implants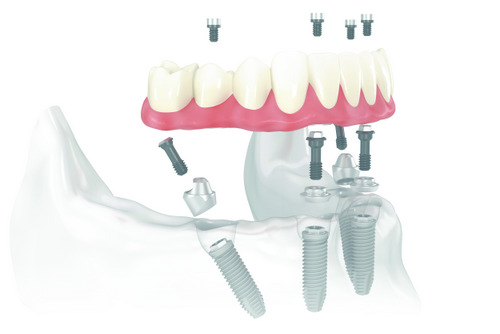 Dental implants are a popular treatment used to replace missing teeth. This unique treatment provides an alternative to bridges and dentures. It uses small titanium or ceramic implants that we place directly into your jawbone. As you heal, your bone fuses gradually to the implants, stabilizing them within the jaw. When you are fully healed, they can then provide support for your replacement crowns. At McNickle Family Dentistry, we are proud to offer this revolutionary treatment. While the process for getting dental implants may be more involved than traditional treatments, implants offer a significant number of amazing benefits.


Versatility

Where bridges, partial dentures, and dentures can only be used in certain situations, dental implants are a highly versatile treatment. They can be used to meet some different needs, no matter if you are missing just one tooth or you are missing an entire arch. There are even options available to provide implants for those who may not have a strong jawbone. We can customize a treatment plan for you based on your specific situation.


Regain Your Beautiful Smile

The ceramic crowns placed on the implants replace the entire visible surfaces of your missing teeth. Ceramic mimics many of the properties of your natural teeth and can be made to blend in perfectly. In addition to beautifully matching the color of your natural teeth, ceramic also reflects light as enamel does. When the crowns are set into place, there is no telling the difference between them and your natural teeth. With your smile perfectly restored, your confidence will soar.


Eating is Easier

Your teeth play a critical role in your ability to eat. They are responsible for biting and chewing. Tooth loss affects these abilities and can make it more difficult, if not impossible, to eat certain foods. Additionally, not being able to chew properly can affect your digestion and your overall nutrition. Dental implants perfectly restore your abilities to bite and chew. You can go back to eating all of your favorite foods again, and you can chew them thoroughly. This improves your digestion as well as your nutrition.


Speech is Improved

Teeth play an important role in your ability to speak. Tooth loss can cause a lisp or other speech difficulties. With dental implants, your speech is perfectly restored. They feel just like your natural teeth, which also means that you do not need to worry about trying to relearn how to speak with a strange object in your mouth.


Maintaining the Integrity of Your Jaw

When you lose your teeth, your jawbone naturally begins to lose mass. While bridges and dentures replace the functions of your missing teeth and the appearance of your smile, they cannot stop the loss of bone mass in your jaw. Your jawbone continues to lose mass and change shape, which results in the need for the restoration to be periodically replaced. Dental implants, on the other hand, restore the stimulation to your jawbone. This, in turn, stops and prevents bone loss in the jaw, helping it to remain strong and healthy.

While getting your dental implants may be a more involved process, the benefits they offer are unmatched. Call McNickle Family Dentistry today at (555) 555-5555 to schedule your consultation and find out if dental implants are right for you.